Before you use these instructions, Two-Step must be enabled (which it is for most faculty, staff, and students) and you must have added at least one device or phone.
How to Log In After Enabling Two-Step Verification
When you next log in to a service or page that is set up with Brown's single sign on (Shibboleth), you'll be prompted to use two-step verification. Notice the Remember For 30 Days option! This makes things much easier. (We'll describe it in more detail below.)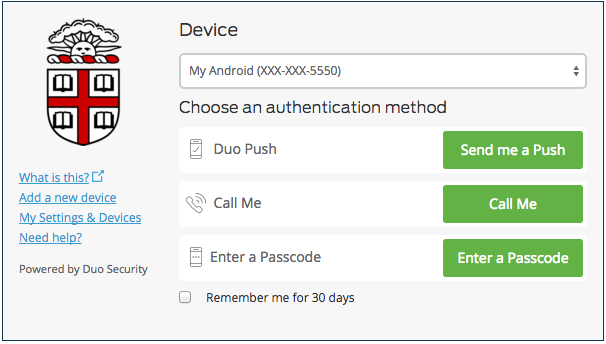 Options for Authentication
Duo Push: This option will push a notification to your phone or other device set up with the app. This is the simplest option because it doesn't require retyping a code - just click Approve (and sometimes, a second Confirmation) on your device and the login process will be completed.

Phone Call: You will receive a telephone call and can push any key on your phone to continue.

Passcode: Enter one of the passcodes you generated in MyAccount or sent to your phone by SMS. You will be prompted to enter one particular code, identified by its beginning digit. Each time you generate a new set of codes, the last set becomes invalid.
Instructions for Specific Devices
Duo, the vendor we use to provide two-step, has more detailed information depending on the type of device you are using, available at the following links:
Make it Easy: Remember for 30 Days
Check the "remember this device for 30 days" box to avoid more prompts for the next thirty days on your current web browser. For example, if you usually browse the web with Chrome, this option will avoid more prompts on Chrome on this computer for 30 days (but you would be prompted in another browser like Firefox, on a different computer, or if you clear your cookies / cache).
Generating Backup Codes
You can generate backup codes in two ways. Each time you generate a new set, the last set is no longer valid.
In your Two-Step settings in MyAccount (myaccount.brown.edu/twostep/settings), click the button that says Generate New Bypass Codes.

When on a Duo Prompt, click Enter a Passcode, then the Send Codes button (you probably haven't seen this yet if you're going through these instructions for the first time)

Still have questions? Check our FAQ.