Connect laptops and mobile devices wirelessly to classroom projectors and displays (no need for dongles and cables!) with Crestron AirMedia.
Why would you want to use this service?
Instructors can use personal laptops and mobile devices in the classroom to present, collaborate, and share content wirelessly.

Students can simultaneously view the content projected by the instructor.

Instructors can permit students to share content to the projector from their individual device for viewing by the class.
Installing AirMedia
To present wirelessly from a laptop, please first download the latest version of the deployable software: Brown.edu/go/AirMedia
**Please note: in order to use audio from your Mac you must install the SoundFlower application. You will be prompted to do this when you install Airmedia**
Connecting to Airmedia
Once you launch the AirMedia application you should see a login window appear.
When prompted, enter the IP address which is displayed in the top-left corner of the projected screen and press connect.
**Each classroom has a unique IP addresses**
The next window will ask for the AirMedia passcode. This is located in the top right of the projected screen.
**This passcode will change every time a session is ended**
Using Airmedia
A Presentation Control Screen will display on the computer.

Use the following controls to direct the presentation:

To present wirelessly from a smartphone or a tablet
Download the free Crestron AirMedia app for your iOS or Android device.
Once downloaded, open the App on your mobile device.


Type the address displayed in the top-left corner of the projector screen into the Receiver field.
Login with the code displayed in the top-right corner of the projector screen.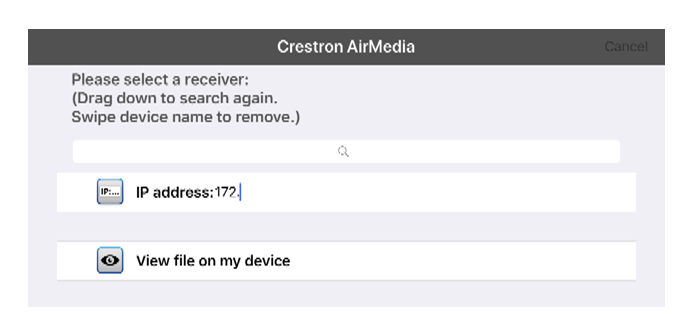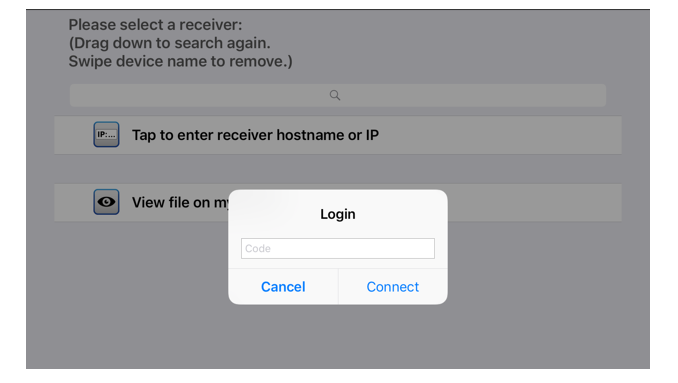 You can now share media such as documents and images from your wireless devices.
Information for Students
Students need no formal training.

Enable "Remote view" to allow the use of any browser from a laptop or mobile device to view presented
content.

Students can access the system inside the classroom and up to 40 students can view instructor content on their devices.
What else should faculty know before getting started?
Presenters must connect to the Brown Wireless Network to use AirMedia.

Wireless presentation (AirMedia) allows PC and Mac laptops to display all data (including video!) from any application.

Wireless presentation from iPads and other mobile devices is limited. Any file placed in the Documents folder, Photos (Photo Roll) and Screenshots (Shot & Show) can be displayed using AirMedia; Web Browsers cannot be displayed.

Up to 32 users can connect to AirMedia at the same time in the same room and present content.

Remote View enables up to 40 participants to log in from a Web browser to view the presentation on their individual device.

Using Quad View, up to four presenters' content can be displayed simultaneously.

The presenter has control of the display and is able to lock everyone out and choose who to send to the screen both in single and quad view modes.
FAQ
Where can I go to learn more about this service?
Learn more about Creston AirMedia here.

My sound doesn't sync with the video I'm showing!
Check your sound settings on your computer. Remember that on a Mac, you will need to use SoundFlower to use audio correctly with AirMedia.

Who should I contact if I need support?
Contact itg@brown.edu (the Instructional Technology Group) to arrange for support.
Additional Resources