First things first: if you haven't set up your Brown Zoom account, please follow the instructions here to get started.
If you have the Zoom desktop client on your computer, it's important to keep it up to date.
Here's how to check for updates:
Sign in to Zoom desktop client.
Click your profile picture, then click Check for Updates.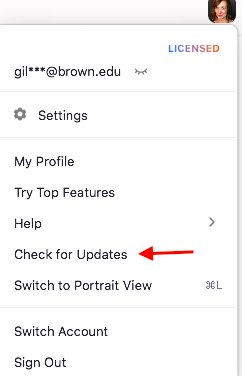 If there is a new version, Zoom will download and install it. Zoom also provides a video of how the process works here.
Not sure which version you're running? Follow the easy instructions here to see if your version is the most current.
Keep your Zoom meetings secure! There are tips in this article: Brown's Enhanced Security Settings for Zoom.
Consult the IT Service Center (help@brown.edu) if you need help.