Dragon Naturally Speaking is a dictation software. When you install Dragon, it prompts you to also install a Chrome extension. There is an incompatibility with this extension and Brown's single sign on, so you must deactive the extension in order to log into Brown websites and services! If not, you will see an "opensaml::FatalProfileException" error. Here's how to disable it.
These instructions will disable Dragon for web use (you will still be able to use it in applications such as Microsoft Word). If you do need to use Dragon on the web, such as for Gmail, you can either:
If You Are Installing the Software
If you don't plan to use Dragon on websites, choose "No Thanks" when you see this prompt to opt out of installing the extension: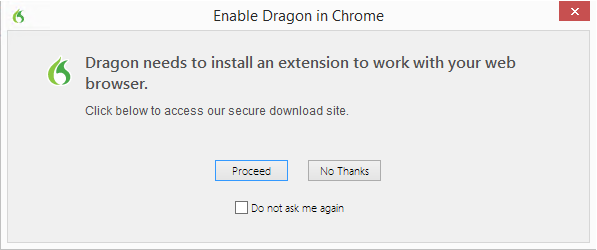 If You Have Already Installed the Software
Access your Chrome settings: click the three lines at the top right of your Chrome browser and choose Settings.
Click Extensions on the left menu
Next to the Dragon Web Extension, uncheck the Enabled checkbox. There is no save button, the change will take effect immediately.