While we recommend accessing your Brown email on the web at http://gmail.com for the best experience, you can set up Mac Mail to read your email if you are more comfortable with the program.
Having trouble? Watch the video here: Set up Mac Mail to Access Brown Email
You will have to enable Less Seure apps by going to this link before following these instructions.
First, Set Up Your Gmail Account to Allow IMAP:
Before going to the Mac Mail application, open your Brown email at gmail.com and ensure that IMAP is enabled in your email settings.
Click the gear icon on the top right of your inbox, choose See all settings and go to the Forwarding and POP/IMAP tab. Select Enable IMAP, make the changes below, and hit Save.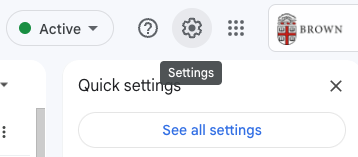 Select Enable IMAP, and hit Save.

Then, add the account to Mac Mail:
Next, open the Mail application on your Mac. Under Mail, select Accounts... If you've never added an account, you'll be taken straight to the next step.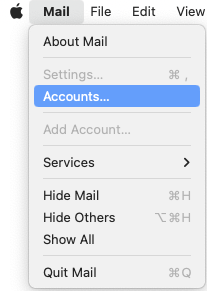 Depending on your version of Mac Mail, you may be prompted to select a type of account to add. You should select Add Other [Mail] Account.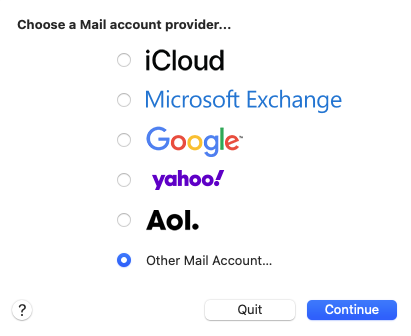 If prompted, enter your name, full email address, and password.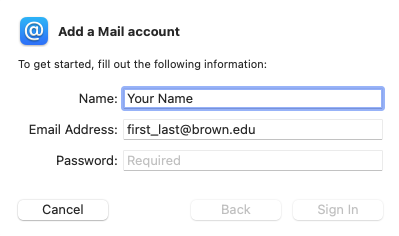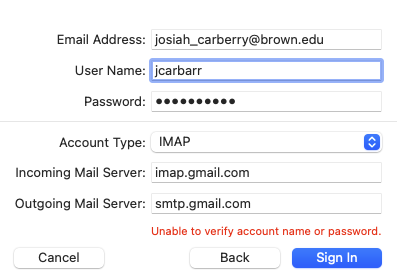 Your mail should begin fetching to your Mac Mail application now. Please be patient as the initial fetching may take time.