What is UDOIT?


UDOIT is a tool for improving web accessibility within Canvas. It allows faculty and other course designers to scan a course, generate a report, and learn how to address common accessibility issues.


Installing UDOIT

To enable UDOIT as a teacher, TA, or designer in Canvas, open Settings in your course, then go to the Navigation tab and find 'UDOIT' in the list of hidden navigation items. Click the Settings icon next to UDOIT and select + Enable to add the tool to your navigation. Visit our Canvas Course Navigation page for more on managing course tools. Students will not see UDOIT in the course navigation. This will only appear for those with the Teacher, TA, UTA, or Designer role in Canvas.
Update: The latest version of UDOIT (UDOIT Cloud 3.0) is now available! Visit Introducing the New UDOIT Cloud 3.0 for more guidance. We welcome you to try this new version and let us know what you think at dld@brown.edu. The original version of UDOIT will remain available through the end of the year.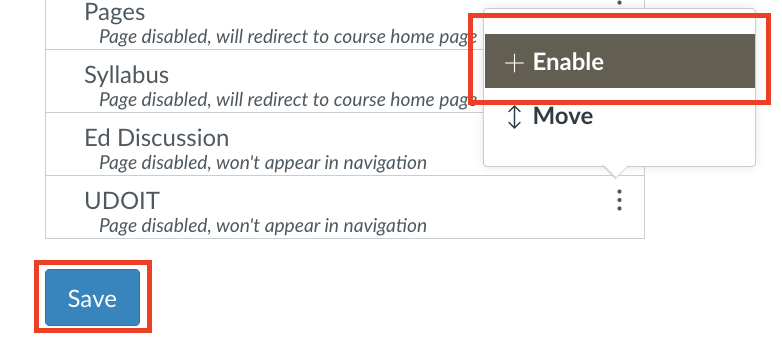 Resources


UDOIT 2.0 Introduction - Short video overview video of the tool, which was developed at the University of Central Florida.
UDOIT 2.0 User Guide - Comprehensive information about using UDOIT, including materials on universal design/web accessibility.
UDOIT 2.0 Quickstart Guide - Practical getting started tips with highlights from the full UDOIT guide.
Note: For resources relating to the newer UDOIT Cloud 3.0, visit Introducing the New UDOIT Cloud 3.0.


The Digital Learning and Design (DLD) team is currently piloting this tool and welcomes any feedback.
For more help with getting started, write to dld@brown.edu or sign up for a 1:1 Canvas course accessibility consult.