Brown has an enterprise digital signage system on campus. Departments manage their own signs and content but the underlying system is managed by CIS. To start the process of setting up a digital sign for your department, email cis@brown.edu. We've included detailed information which explains the service on-boarding process as well as ongoing support and management of this service.
Informational Meeting
If you're interested in adding a sign to your department, contact us at cis@brown.edu. We'll set up a meeting (preferably in the future location of the sign) to understand your objectives and gather the information needed for a price quote.
Associated Costs
CIS pays for the digital signage software and servers to run that software. However, there are some costs associated with setting up a new sign. These one-time costs* include:
Purchasing the TV and player
Consulting to create and set up your layouts
If applicable, running power to the sign location
If applicable, installing a network connection at the sign location
*pricing available upon request
Purchasing the TV and player
To install a sign, you need a TV display as well as a content player (the player can run more than one display with the same content). After you contact us, we'll schedule an initial walk-through of the space and collect requirements including the TV you would like to purchase, where the sign will be located (and whether that location needs power and network). The information we collect will help you get a cost quote.
CIS will coordinate the hardware installation while our implementation partner, HB Communications, handles the actual installation and works with you to get your sign(s) up and running. They also complete the initial setup of these layouts in the system so you will be able to publish content to your signs.
Layout Consulting and Design
Depending on your desire to use custom content for your playlists or launch your sign using Brown standard content, you will receive a content strategy session with our implementation partner, HB Communications. As your sign is installed, our partner will consult with you to understand your needs and create layout(s) according to Brown's Digital Signage Protocol and Best Practices.
Here are examples of two blank layout options. One has a large area for content, and the other has three content areas. Each of these areas has its own playlist; you can display images, video, or other content such as a website (for example, the shuttle route). The first layout has a customized background and color scheme, while the second is more conventional.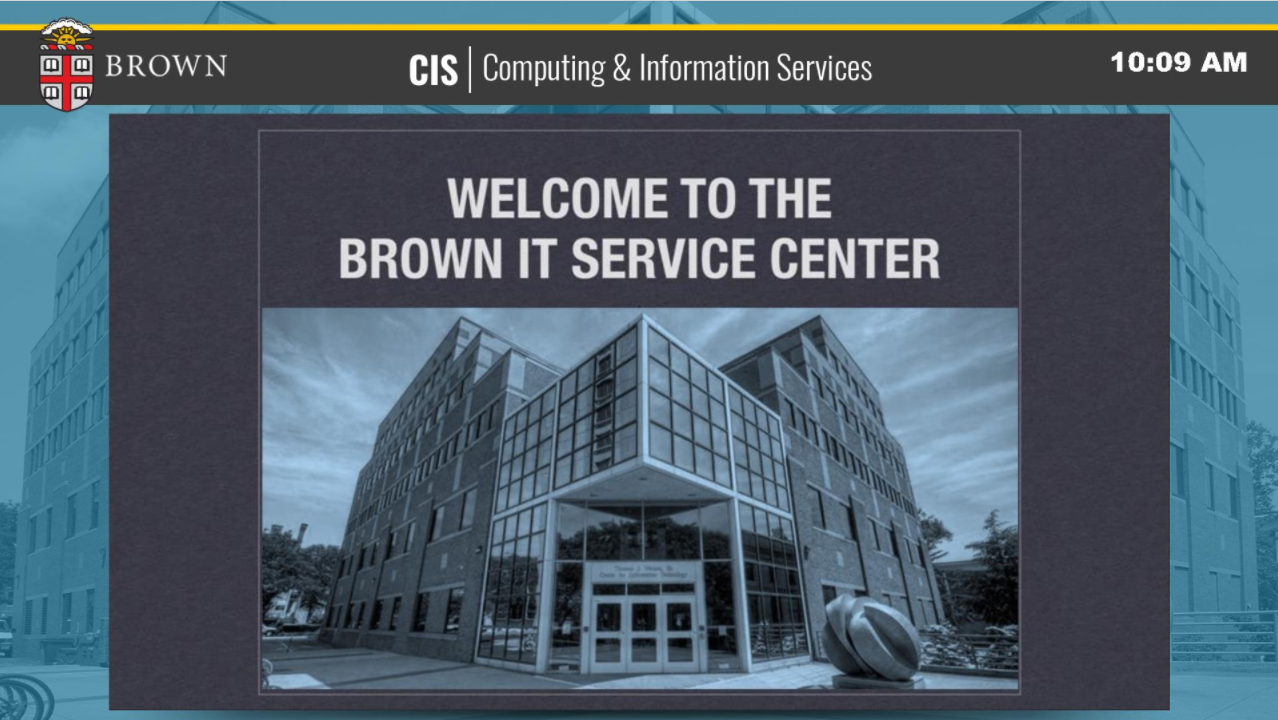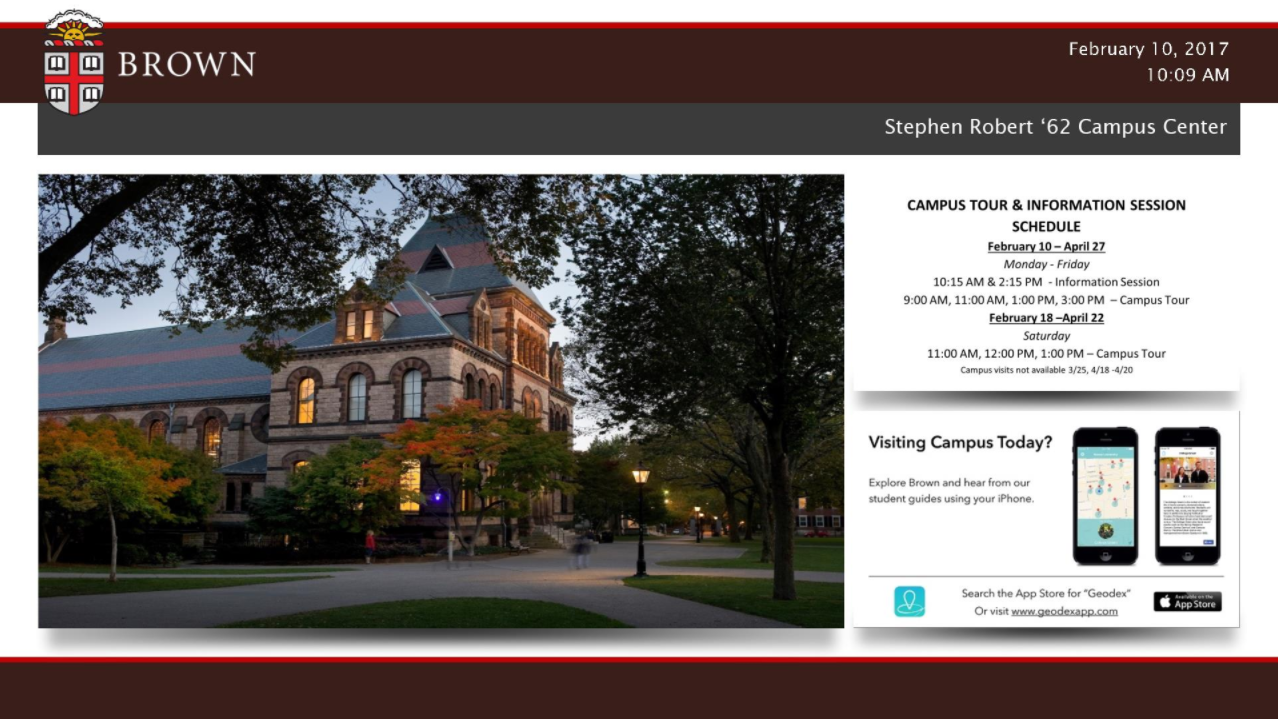 Management and Access
After your sign is set up, you will also need to submit a Computing Accounts Request Form for anyone who needs access to the sign in one of the following roles:
Sign administrators have the highest level of permissions which allows them to create new layouts, create and publish content.
Content administrators are one level down and can create and publish content
Content creators can create content but that content will not appear on a sign until it's approved by an administrator.
Support and Resources
As your sign is set up, you will also want to participate in online training as described in the article Get Started with Digital Signage. We also urge you to read Brown's Digital Signage Protocol and Best Practices documentation before creating content.
CIS will guide you through the on-boarding process. Once you begin to use the service, you will receive ongoing support from your department's computing coordinator or our IT Service Center team. You will also be added to our Digital Signage User's Group which will connect you to other service users on campus, allowing for collaborative opportunities.