Managing Subscriptions To Statuspage Alerts
Subscribe to receive alerts about upgrades, unplanned outages, or maintenance.
How To Subscribe
To subscribe to Brown's status alerts visit brownuniversity.statuspage.io/
In the upper-right corner, select the SUBSCRIBE TO UPDATES button.

Enter your email address to receive alerts by email. Or you can select the telephone icon and enter your mobile number to receive alerts by text message. Then select SUBSCRIBE.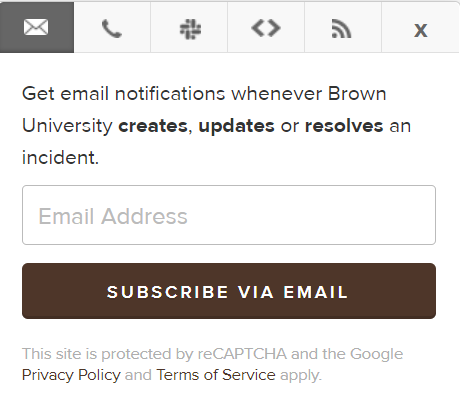 Manage Initial Email Subscriptions
Once you enter your email address you will be directed to a page confirming your subscription.
There, you will see a list of services or applications for which you would like to receive notifications. By default, all of the services will be automatically checked. Uncheck the services for which you do not want notifications. Then select, SAVE, at the bottom of the screen.
The notifications will come from Statuspage, an external vendor, from the email address 'noreply@statuspage.io.' Be sure to check your spam or junk folder for a confirmation email and add the Statuspage email address to your address book.

Manage Initial SMS (Text Message) Subscriptions
After selecting SUBSCRIBE you will receive a text message verification. The SMS texts will be from various numbers in the (650) area code.
If you opt to receive Brown's status alerts by SMS, note that you will only receive notifications when an outage is initially posted and when the outage is closed; you will not receive real-time updates.
As with email subscriptions (see above), on the next screen uncheck any services or applications that you do not want to receive alerts on and then select SAVE.
RSS Feed of IT Status Alerts
To subscribe to the RSS feed, select SUBSCRIBE TO UPDATES in the upper-right corner of the Brown status alerts page brownuniversity.statuspage.io/. In the window, select the RSS Feed icon to be directed to the RSS site.
Update Email Subscriptions
To add or remove alerts for specific services visit Brown's Statuspage and select SUBSCRIBE TO UPDATES. Enter the email address you used to originally subscribe to the alerts and select SUBSCRIBE. This will bring you to the Manage Notifications screen in which you can check or uncheck the services you would like to receive or no longer receive alerts for. Once you have updated your notification preferences select SAVE to save the changes. This same process can be used for SMS also.
Unsubscribe Email
To unsubscribe to Email alerts visit the Manage Your Subscriptions link at the bottom of any alert email. This will bring you to the Email notifications screen where you can uncheck the services or applications that you no longer want to receive email alerts on. Or if you wanted to completely unsubscribe from all email alerts select Unsubscribe from updates and select SAVE.
Unsubscribe SMS
To stop receiving SMS messages reply with STOP to one of the SMS messages that you have received and that will remove you from receiving future SMS alerts.