Druva Installation
1.) Download the inSync client:
https://downloads.druva.com/insync/client/cloud/
2.) Run the installer. The prompts are self-explanatory.
3.) Once the installer has completed, you will be invited to activate Druva (see below).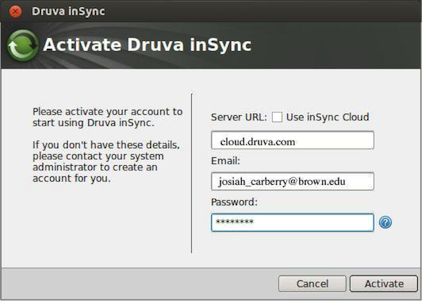 Fill in the fields as follows:
a.) cloud.druva.com (or simply put a checkmark in the "Use inSync Cloud" box).
b.) email: the email address used in the email invitation you received.
c.) password: the password emailed to you
Click Activate. You will then be required to change your password. Enter the new password twice.

By default, your Desktop and Documents folders will be backed up. You can add additional folders to the automatic backup by going into Druva preferences.