With Jabber, you can bring your Brown phone number with you, even if you're away from your desk! Jabber is a unified communications application for Windows, Mac OS X, and mobile devices. It'll let you make and receive phone calls*, conduct encrypted chats to others who are logged into the system, and search the Brown directory.
Install Jabber on a Computer
Request a Jabber account. (You only need to do this once as long as you select all devices you plan to use.)
After your receive a confirmation that your account has been created, download the Jabber client software from Brown's software catalog
After downloading, double click the installer file and proceed through installation.
Open the Jabber Application.
Enter your Brown email address and continue.
Keep the Automatic Sign In option toggled on if you would like to stay logged in to Jabber on your device. When you are logged in, a call will ring on both the app and your desk phone. You can always sign out manually if you don't want to receive calls on the app.
Use Jabber on a Computer
Audio Recommendations
While most laptops have built-in microphones, the audio quality is not ideal. We recommend using a USB headset, bluetooth headset, earbuds with a built-in microphone (if supported by your computer), or other external microphone.
Whatever you are using, make sure that device is selected in the audio settings.
Control Your Availability
In order to receive calls on your mobile device, you need to have the app running and be logged into it. Here are some tips:
We recommend using the "stay signed in" setting for your convenience.
If you turn your computer off and on again, you must re-open the Jabber app and sign in to receive calls.
If you don't want calls coming to your computer, quit the application. If it is not actively running, you will not receive calls on the computer.
If you set your status to "Do Not Disturb" in the app, your desk phone will not ring either.
Phone Calls
When you receive an incoming call, a notification will appear on your screen. If the other party is using Jabber, you may choose Chat to reply with text rather than answering the call with voice. Decline will send the caller directly to voicemail.
Recents
Recents will show your past calls. You can click on the list to return a call. You can also send a text if the person has Jabber installed.
Calling Options
While in an active call, you may Mute the phone, Mute/Unmute Video, adjust call Volume, open the Dialpad to enter additional digits, or press the Ellipses for Hold, and Transfer.
When the other person doesn't have video available, you will see a gray screen.
Making a Call
To initiate a phone call, do one of the following:
Hover over a name in your contact list, then press the Call button that appears to the right. If the contact has more than one phone number, select the appropriate number you wish to dial. Why does it offer a person's email address as a work number??
Double or Right-click the name of a contact in your contact list to call and see more options.
Enter the name of a contact in your Search Bar, then either highlight the contact and press the Call button, or right-click the contact and select the appropriate phone number to dial. Test this. It didn't work as advertised for me?
Enter a phone number in the Search and Dial Bar, then press Enter on your keyboard.
Contacts
Use the Contacts icon to maintain your contact lists and see status of your contacts.
To add an internal contact to your contact list:
Click on the Contacts icon.
Enter the name of the contact in the search bar at the top of the screen. Predictive search will present you with possible matches as you type.

When you locate the correct contact, click on their name. Then click + on the top of the chat window. You can also hover over the name to see more options for communicating with that person.

After verifying the name in the next window that appears, click Add. You can also specify which group you want to add them to if you have more than one.
To add an external contact to your contact list:
In the top menu, select Contacts (Mac) or File (Windows), then select New Contact.
Enter the contact's URI (Universal Resource Identifier) information (usually an email address) in the pop up window. You may be unable to view an external contact's status until they approve your request.
Availability Status
When logging into Jabber your status will automatically set to green for available. There are four status icons:
green for Available
yellow for Away or Busy
red for Do Not Disturb
gray for Offline
Click on the drop-down menu beneath your user account profile name (circle displayed as initials) to change your status or create a custom status.
Chats
The Chats tab shows a list of chat conversations you have had recently.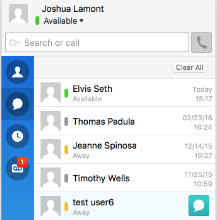 To start an Instant Message conversation:
Hover over the name of the person you want to chat with and click on the chat bubble that appears on the right side of the name bar. Or select Chat from the options box that opens.
To begin a Group Chat session:
Right click on the name and select Start Group Chat from the menu of options that appears. Or click on the above the chat window to add a person to your chat.
You can also drag and drop a contact from your contact list to an existing chat to invite another participant and create a group chat.
Press the button that looks like a person with a three lines to open the participant panel so you can see all participants.
To Escalate a Chat to a Phone Call:
Click on the green phone icon at the top of the Chat window to escalate to a telephone call.
Video Calling
If you have a camera connected to your computer, you may use this to make video calls with Jabber. You may choose to automatically have video appear with every call you make or receive, or add video to calls on a per-call basis by changing your preferences as shown below.
When you add video, your call window will change to show only a video screen. Self-view will enable by default. If you hold your cursor over the video window, a call control options bar will appear. To hang up the call, press the button that looks like a red phone.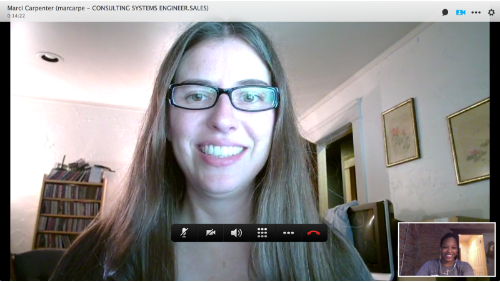 Change Video Calling Preferences
To change your video calling preferences, select the Gear icon in the upper right. You may also add a chat or click More ( …) to share your screen.