How do I log in to Canvas?
You can access Canvas through http://canvas.brown.edu. Enter the username and password that you use to log in to Banner. You will then be directed to the User Dashboard.
How do I log out of Canvas?
Due to Brown's Single Sign On service, users cannot log out of Canvas with an open browser. In order to log out of Canvas, you must quit fully quit your browser.
Where do I find help?
Report a problem or access user guides for Canvas by clicking Help in the lower left corner of the page, or contact the helpdesk via email at help@brown.edu.
How do I see or edit my profile?
Click Account in the Global Navigation menu on the left. Click Profile. Click the placeholder profile photo to upload a profile photo.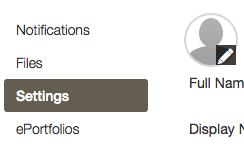 How do I see or edit my notification settings?
Click Account in the Global Navigation menu on the left. Click Notifications to change notification settings. In Notification settings, you can determine the frequency with which Canvas will notifications to your email address. See this article for a full description of notification settings.
How do I navigate Canvas?
The User Dashboard is the main page on Canvas that consolidates important information from all of your courses. From there, you can see the following:
The Dashboard shows Course Cards, which allow you to quickly access course sites or click course activity icons to view recent course-specific Announcements, Grades, Discussions, or Files.

You can switch to a Recent Activity feed, which shows quick links to recent announcements, assignments, discussions, and other changes to your courses.
To switch between Dashboard and Recent Activity, click the toggle at the top of the screen.


The Courses tab on the left side of the page shows the courses you have access to.
The Grades link located on the right side of the page shows grades for all courses.
The Calendar link located on the left side of the page shows events and assignments for all of your courses.
The Coming Up list on the right side of the page shows upcoming assignments, assessments, and events, with links so you can read about them in further detail.
The Recent Feedback list on the right side of the page displays recent feedback from instructors and peers, including grades.
Note: Click here to learn more details about navigating the new Canvas dashboard.
Can I access a Canvas course during shopping period?
Non-registered students can access published Canvas course materials during shopping period, which also allows students to submit assignments and discussions. To access a Canvas course site during shopping period, you must add the course to your primary cart in cab.brown.edu. At the end of shopping period, students not officially registered for the course through Banner will be removed from Canvas course sites. Read more about how to get shopping period access.
See Canvas Student Guide for detailed how to articles on everything Canvas.