Don't have a smartphone? Travel extensively? You might want to use Brown's Two-Step Verification with a token.
What is a Token?
A "token" is a keychain-sized device. If you push the button, it displays a number for you to type into the Two-Step Verification prompt.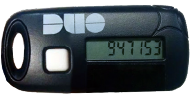 Every time you press the button, a different number is displayed. Once you use the displayed number to verify, it cannot be reused. This is an offline device - no cell or data connection is required.
How to Get a Token
You can visit Brown's IT Service Center to pick up a token. They will set it up and add it to your account.
How to Use a Token
To use a token:
After entering your username and password on a Brown single-sign-on page, you'll see the Duo prompt.
Choose Token as your way to verify

Click Enter a Passcode
Press the button on your token. A number will display.

Enter the number you see into the passcode area, and click Log In.

Tip: check the "Remember me for 30 Days" to avoid being prompted for 30 days on your computer's browser.