The Service Center provides JVC GY-HM150U high-definition video camera kits.
To find out about loaning one, visit this website for our loaner policy.
If you have borrowed a JVC kit and want to know how to use it, please watch our instructional video. A few common questions are also addressed below.
To read the manufacturer's manual click on this link.
We also provide more portable Canon Vixia HFM52 video cameras.
Contents
1 JVC GY-HM150U camera

2 32GB SD cards
1 camera battery

2 lavalier microphones with wireless transmitters, useful for recording interviews or presentations
1 "shotgun" microphone, useful for camera-mounted audio recording and outdoor shooting
1 remote control
1 power adapter (connect to the camera and a power outlet for long periods of shooting)
1 battery charger
assortment of audio, video, and power cords
Instructions
To turn on the camera, press the small blue button on the dial on the right-hand side of the camera and rotate it to STANDBY/ON.
The red REC button to its side can be used to toggle recording.
The JVC camera comes with two 32 GB SD cards, which can hold approximately 12 hours of HD footage.
Resolution, Framerate, and File Format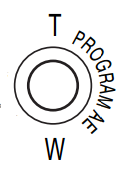 To set the various attributes of the video you record, press the MENU/THUMB button on the fold-out screen, and press the control stick (pictured at right) inwards to select "Record Set..." Then use the control stick to navigate the menu and change the options as desired.
Transfer and Edit Footage on Computer
The multimedia labs (found in Granoff, List, Grad Center, and the SciLi) have computers with all the software needed to import and edit your footage, and during staffed hours all but the SciLi MML have someone who can help you.
Alternatively, to work on your own computer, you will need to install video editing software, such as one in the following list:
iMovie
Adobe Premier
Final Cut
Windows Movie Maker