What is it?
WeBWorK is an open-source online homework system for math and science courses. It is supported by the MAA and the NSF and comes with a National Problem Library (NPL) of over 20,000 homework problems. Problems in the NPL target most lower division undergraduate math courses and some advanced courses. Supported courses include college algebra, discrete mathematics, probability and statistics, single and multivariable calculus, differential equations, linear algebra and complex analysis.
The WebWork application is hosted locally on Brown's servers and maintained by Computing and Information Services (CIS).
How Do I Use WebWork?
For Faculty:
We'd first ask that you set up a consult with the Instructional Designer assigned to your department. Please send an email to dld@brown.edu and your ID will set up a WebWork meeting.
For Students:
All access to WebWork will be through Canvas. Your instructor will create assignments that will connect to a WebWork assignment. Attempting to access WebWork directly (without going through Canvas) will fail.
What Does WebWork Look Like?
How Do I Use It?
All of this and more will be discussed when you meet with your Instructional Designer about using WebWork.
Once your WebWork course is connected to your Canvas course, you'll be able to access WebWork and begin to build problem sets.
You'll choose a Subject, then a Chapter, then a Section.
Subject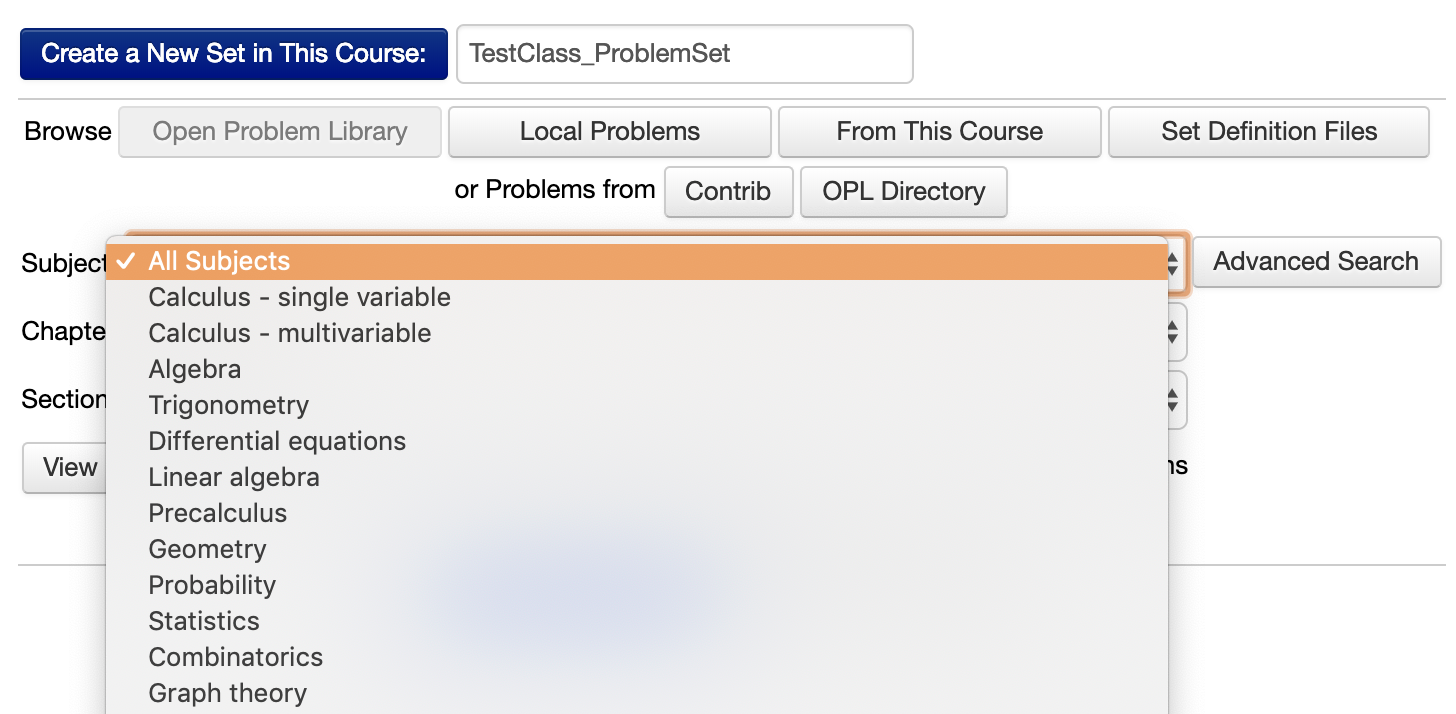 Chapter

Section

You will see a number of available problems to choose from and a statement similar to: "There are 108 matching WeBWorK problems".
Some problems may show more detail which could allow you to select higher quality problems. For example:
GLOBAL Usage: 315, Attempts: 1.24, Status: 97%.
What does each mean?
Global Usage:
Global data on problem usage is contributed by institutions using WebWork all over the world. The Usage figure is the total number of individuals who have attempted this problem at least once. A high figure represents a problem which has been assigned to many students and is both popular with instructors and likely bug free.
Attempts:
The Attempts figure is the global average of the number of attempts (both correct and incorrect) individuals take on this problem. A high figure may represent a difficult problem. Note that problems with multiple parts may have higher average attempts since many students will submit an answer to each part before continuing and each such submittal counts as an attempt.
Status:
The Status figure is the global average of the Status individuals have earned on this problem. The Status is the percentage correct (from 0% to 100%) recorded for the problem. A low figure may represent a difficult problem. The Status is often fairly high since many students will work on a problem until they get it correct or nearly so.
Reviewing a problem and looking at both the average Attempts and average Status should give instructors valuable information about the difficulty of the problem.
Once your WebWork problem sets have been saved, you can create a link from Canvas to the WebWork course/assignment.
Where Can I Get Support?
If you are a student and don't understand the WebWork problems, please contact your instructor(s) for assistance.
If you have a problem getting into the WebWork online application, please ensure that you are accessing from Canvas. Trying to access WebWork directly will fail.
WebWork does offer their own Documentation Wiki (opens in a new tab) and a User Forum (opens in a new tab). Both of these can be valuable locations for you to resolve your questions.
Any/all other problems regarding WebWork should be reported to
IT Service Center
69 Brown Street, Room 510
Phone: 401-863-4357
Email: help@brown.edu
IT Service Center Hours
Academic Hours
Monday-Friday: 8:30am-9:00pm
Saturday: Closed
Sunday: 4:00pm-9:00pm