*the Bar currently requires custom work (fee for service). Contact WebServices@brown.edu if you're interested in having the Bar installed on your site.
What is the Bar?
The Bar is a tool that enables you to highlight selected pages, news articles, images, and videos. Some sites use it to draw attention to recent news items, others use it to graphically present top department accomplishments in a portfolio, and others use it for a special feature, like organizing faculty interviews and profiles. Below is an example from the WebServices homepage.


What does a Bar item comprise?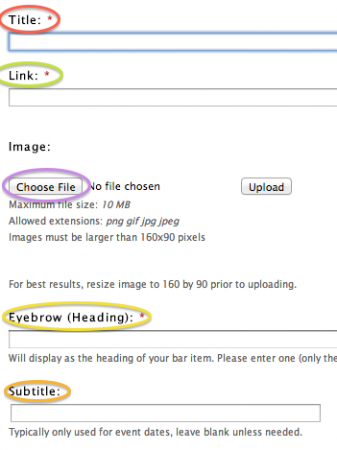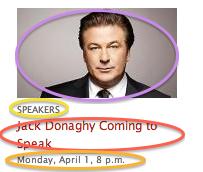 A title, like a headline. (Red.)
A link to another page or news item. (Green.)
An image that is at least 160 pixels wide and 90 pixels high. (Optional.) (Purple.)
An "eyebrow," like the category that this item falls under (e.g., "Guest Speaker," "New Finding," or "Profiles"). (Yellow.)
A subtitle, used mostly for event dates. (Optional.) (Orange.)
As you can see, a Bar item can draw attention to your content!
How do I add an item to the Bar?
Find the page or news item you want your Bar item to link to.
Find the image of at least 160 by 90 pixels if you want one for your Bar item.
Log in to your BrownSite.
From the left-hand editing panel, click on "Create Content".
Under "Create Content", click on "Bar Item".

Give your item a title.

Insert the link from Step 1.

Upload an image (optional).

Give your item its "eyebrow" category.

If necessary, add a subtitle.

Save the item.