The initial installation of the Webform module requires the assistence of WebServices. If you're interested in adding a Webform, contact webservices@brown.edu.
What Control Do I Have with the Webform Module?
The Webform module enables the creation of forms and questionnaires in a single place on a page. This page demonstrates how the Webform Module cycles collects answers.
Creating a webform
In the "Create Content" menu, click on "Webform"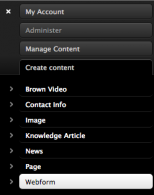 Give the webform a title in the Title field.
Give the webform an introductory paragraph in the Body field, if desired.
Save the webform. You are creating a page upon which the form will live.
Editing a webform
Now that the page is created, click its Edit tab.
You will now see additional tabs at the top of your content area. Click the Webform tab. The webform component table will now be displayed.
To add a new component to the webform, type in the component name in the "New component name" box and select the component Type.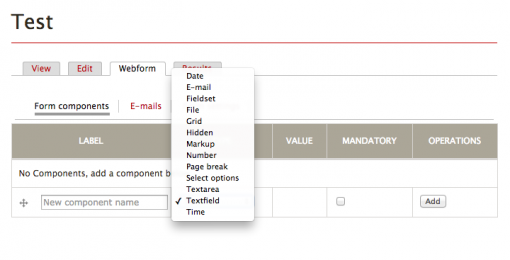 Common component Types are as follows:
Date - ask for a date input

Email - ask for an email address
File - ask for a file upload
Select options - i.e. radio buttons or checkboxes
Textarea - for large text inputs (i.e. paragraphs)
Textfield - for small text inputs (i.e. words)
Additionally, responses to a component can be made mandatory by checking the "Mandatory" checkbox.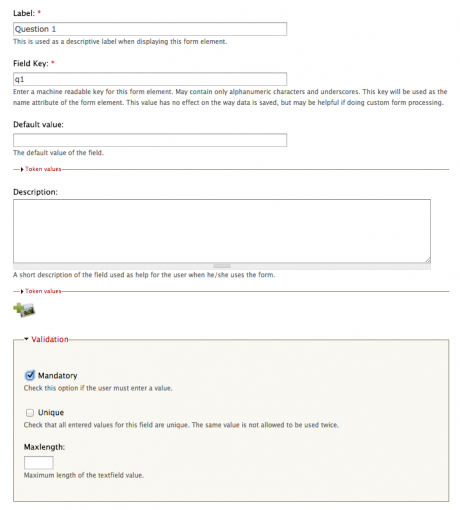 To change the ordering of different components, simply drag them up or down by clicking on the Move icon to the left of each component.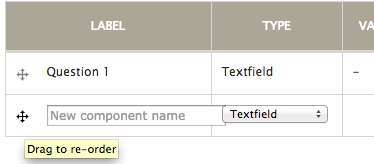 Under the section "Form Settings" exist the options to do the following:
Edit / display confirmation message

Redirect survey-taker to a separate confirmation page

Limit total number of submissions

Select types of users who can respond to webform

Email confirmation setup
Click on the "E-mails" section underneath the Webform tab.

Enter the email address of the individual / department that should receive all form submissions. Click "Add".
The confirmation email subject, from address, and from name can be edited as seen fit.
To change the format of the confirmation email, edit the Email Template.
For more complex email setups, please contact webservices@brown.edu

.
Result collection
Under the "Results" tab exist the following sections:
Submissions - view all submitted results to the webform

Analysis - view basic statistical information for each webform component

Table - view submissions in a table format

Download - download submission results in a .CSV or .XLS file (** there is also the option to download specific components / submissions only)

Clear - clear all results