One of the many types of equipment the IT Service Center has available to borrow is the LyxPro Portable PA Speaker. It is a compact, fairly simple device, but the controls and options available may be intimidating to someone unfamiliar with audio equipment.
This guide is meant to provide the basics for getting up and running with the speaker. If you would like a reference which covers all of the more advanced functions, the full LyxPro Portable PA Speaker manual is available here.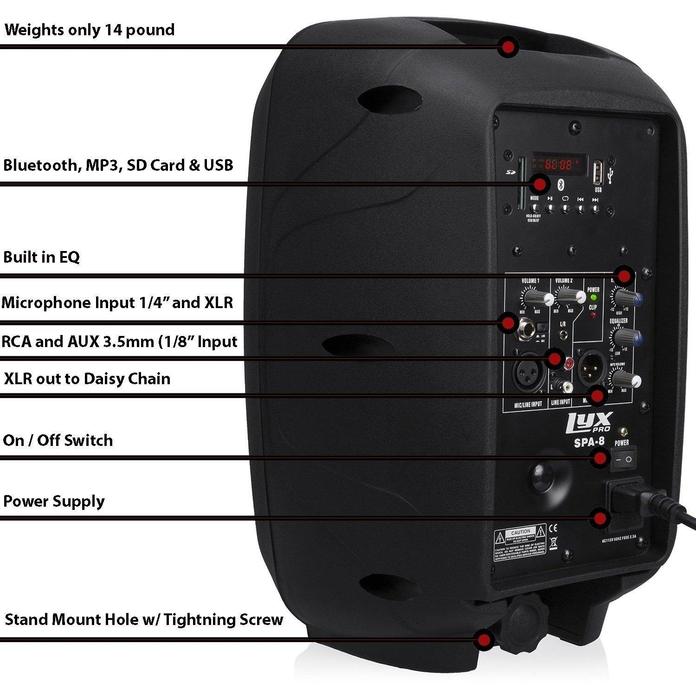 Description
Powerful 100W Active PA System at a Mere 14 Pounds, Compact size 14" H x 9.25" W x 8" D

8" Woofer, Power Split: 70-Watt LF & 30-Watt HF

Perfect for churches, small parties, schools, class rooms, gyms, corporate meetings & presentaions

MP3 Section w/Bluetooth, SD Card Slot & USB Input with Onboard Intuitive Music Controls & EQ

XLR Microphone input, 1/4" Mic/Line, R/L RCA Inputs, 3.5mm AUX input w/Per-Input Level Knobs
Supplied equipment
LyxPro Portable PA Speaker

1 hand-held mic

1 remote control for USB/SD playback

1 small table tripod

1 power cord


Parts and Controls
1. Mp3/WMA Player w/Bluetooth
a. Mode Button: Switches between USB/SD Card Reader
b. Pause/Play Button
c. Repeat Button
d. Previous Button
e. Next Button
2. Volume 1: Controls Mic Input Level
3. 1/4" Mic Input Jack
4. Line/Mic Input Switch
5. XLR Mic Input Jack
6. Volume 2: Controls Line Input Level
7. Balanced RCA Input
8. R/L (Red/White) RCA Line Input
9. XLR Line Out to Another Active Speaker
10. Volume Clipping Indicator
11. Treble Knob: Controls tone level of high frequency at range -12dB to + 12dB
12. Bass Knob: Controls tone level of low frequency at range -12dB to + 12dB
13. MP3 Volume Knob: Controls volume of MP3 player
14. Power On/Off Switch
15. Power Input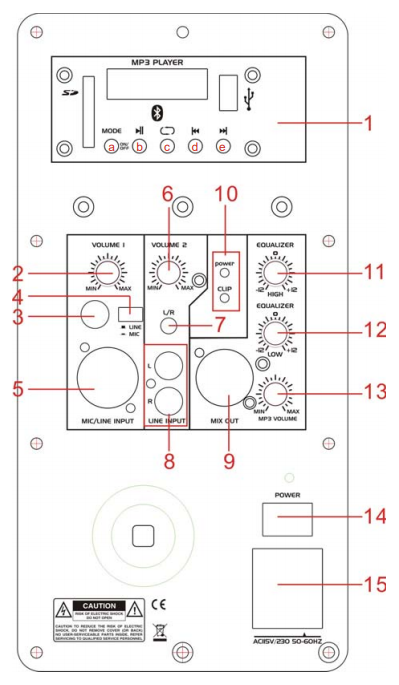 Connecting to Bluetooth
Switch Power On/Off Switch (#14) to On position

Long-press Mode Button (#1a). Display will read "Blue"

Turn on Bluetooth function on mobile device you wish to connect

When "LYXPRO" appears on your mobile device, select it

Short beep will sound. Devices are now connected



Support
If you need help with your LyxPro Portable PA speaker, you can contact LuxPro here. Alternatively, if you have borrowed a LyxPro Portable PA speaker from the Brown IT Service Center, we can also provide assistance using it; simply visit us on the fifth floor of J. Walter Wilson, call us at 401-863-4357, or chat us during our open hours using the button at the bottom right of this page.