iClicker Cloud will no longer be available in Fall 2019. Please check out Top Hat to do polling in your courses.
This guide will help you:
Setup your Canvas iClicker course link
Setup your grade sync settings
Install the iClicker software


Download the iClicker Cloud software from the

iClicker website

After downloading the software Launch the iClicker Cloud application.
Create an Account
From the login window, select Create Account if you do not have an iClicker Cloud account. If you have an existing account sign in.


Once logged in, create a new course. To create a course, you must provide your course name, institution name (Brown University), discipline, and course start and end dates.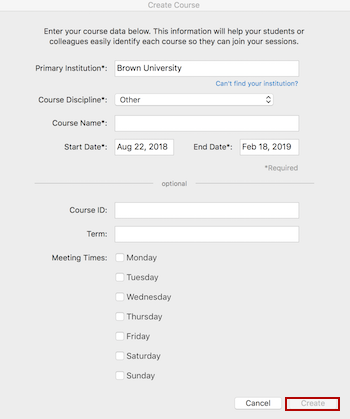 Set-up your Canvas-iClicker course link from inside Canvas
You must create a Canvas-iClicker link for each iClicker Cloud course that you are integrating with Canvas.
Log in to Canvas at canvas.brown.edu once the iClicker course has been created.

Select your course in the Global Navigation menu on the left.

Click Settings in the Course Navigation menu.
Click the Navigation tab at the top of the Settings page.


Click and drag iClicker Sync from the bottom section of hidden tools to the top section of visible tools. This makes the option available in the left-hand side of your course navigation for both you and your students.

Click Save.


Click the newly placed iClicker Sync option in the side navigation to launch the app. The first time the app is launched, you will be prompted to enter your iClicker Cloud email and password to link your account. You will only need to do this step once.



Click the Link Course Button.


You will be presented with a list of your active iClicker Cloud courses to choose from. Select the iClicker Cloud course you want to link to your current Canvas course then click Save and Link Courses

to complete the link. A summary page is displayed after successfully linking your Canvas and iClicker Cloud courses.



Click Launch iClicker Cloud and follow the steps below for grade sync set-up.

Set-up your Grade Sync settings inside of iClicker Cloud
You must set-up your Grade Sync settings for each iClicker Cloud course that you are integrating with Canvas.
Navigate to your iClicker Cloud course, open the course Settings, and select the Grade Sync tab.
Turn the Grade Sync Integration ON, choose 'Canvas' as your platform, and select the Enhanced Grade Sync option, then click Next.

Click the Verify the Integration Set-up button. If the Canvas set-up is found in the iClicker system, the Canvas course information will appear in the Grade Sync tab along with session score settings.


Select how you would like your session scores to sync to Canvas:


Sync Total Score: selected poll and quiz sessions will be combined into a single, aggregate score for each student that is synced to an assignment named 'iClicker Grade' in the Canvas gradebook.

Sync Individual Session Scores: selected poll and quiz sessions will be synced to Canvas as separate assignments. Canvas assignments inherit their names from the iClicker Cloud session name.


Click Save to complete the set-up.